Like most of the homes we build, Eric Craig Custom Homes started with a dream. A dream to build the best homes in the business. Homes built with a focus on quality, not quantity, and on providing premium craftsmanship in every detail.
Experience
Eric Craig Custom Homes in Baldwin County, Alabama, is the culmination of that dream. Owner and operator Eric Craig has more than 20 years of experience in the construction industry and is committed to using his expertise to provide a better home-building experience to each and every client we serve.
Leadership
In addition to leading our team, Eric also serves as the 1st Vice President for the Baldwin County Home Builders Association and as a State Director of the Homebuilders Association, roles that allow him to stay in tune with the industry as he works hand-in-hand with some of the finest home builders in Fairhope, Daphne and throughout Baldwin County.
New Home Construction and Remodels
As a home builder, Eric is dedicated to delivering exceptional custom homes to clients in Fairhope, Point Clear, Spanish Fort, and all surrounding areas in Baldwin County. Ninety percent of our homes are new construction, but we also help families revitalize and renovate their existing homes with professional and custom remodels.
The Eric Craig Custom Homes' Style
We specialize in' refined rustic homes' style – a sophisticated blend of comfort and class that uses textures to define its own unique identity – but our talented team can create and capture any style that feels like home to you!
Our Process
Building a home is a process, and we strive to make it as pleasurable as possible by guiding you through every phase. Our three-step approach begins with a plan. Some clients bring their own building plans, or we can call in a professional draftsman to help you develop a plan that meets your needs. Once your plans are finalized, we prepare them by working through design concepts to complete the finishing touches and be sure we stay on budget. When the first two steps are finished, it's time to build!
Fairhope, Alabama Custom Home Builder
Eric Craig was born on the Mississippi Gulf Coast but spent most of his life in Arkansas. He attended college at the University of Arkansas and served in the United States Marine Corp, but he always wanted to get back to the Gulf Coast. He finally got the chance in 1992, when his family was transferred to Fairhope, Alabama.
It was here he met Regina Dyson Craig, his wife of 27 years. In 2003, Eric went to work with his brother-in-law, who was a seasoned production builder. During this time, he discovered his passion for home building and began the journey to Eric Craig Custom Homes. It was only fitting that he builds homes in Baldwin County, the area that had so captured his heart.
His roots remain deep to this day – he still lives in the area with his wife and their two daughters, Courtland and Kennedy.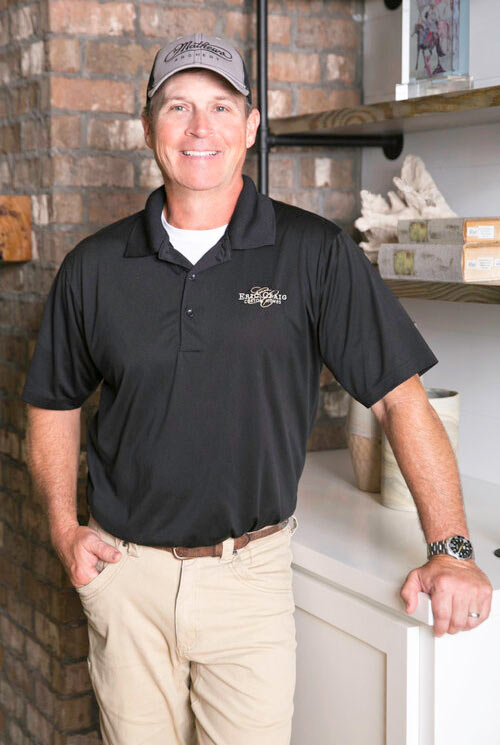 On Time
Your project is our priority. We work with every client to establish expected deadlines and always keep you updated on the progress of your project.
On Budget
We never compromise on beauty or budget. We carefully plan each detail to deliver the home of your dreams at the price point you need.
On Site
Our hands-on approach ensures we are accessible to answer questions and address concerns through every step of your build.